It is important to memorialize your wedding day, so why not remember the guests that supported your love? Havoly wants to ensure that their customers can do so by creating a timeless product. The company offers two guest books: a puzzle or drop top shadowbox. These handmade, unique, and well-crafted maple wood guest books truly speak to the heart. Each puzzle has a personalized piece that is engraved with the text you want. Customers may choose from Havoly's font selection or provide a font of their choice (must be free to download). Your guests will be able to sign the puzzle or drop top piece; they are even big enough to leave small notes! You can also frame it and hang it on your wall, or put it together at a later date.
See their cool options below:
Puzzle Guest Books
The puzzle guest books range from 25-250+ pieces. They are all different and unique.
1.Tree
One of the most popular for customers and personally my favorite, is the tree guest book. It is elegant and interactive. Your guest can sign a piece of the puzzle and attempt to put it together to reveal a beautiful tree. Customers may choose from two styles of trunk: textured or non-textured. They may also choose to purchase this puzzle with a border or without. This tree guest book is truly one to admire.
2. Heart
Near and dear, close to the heart, this puzzle is meant for the sweethearts! You are bound to cherish this guest book. The center of this puzzle will be engraved with the names or text you choose. Guests will definitely be charmed with this sentimental piece.
3. Letter
Want a puzzle with the initial of your last name? Check out the letter puzzle guest books. The letter is carefully designed and surrounded by puzzle pieces. It's a modern twist!
4. Name
Names are with us forever, which is why this puzzle is very special. Praise the one you love with this name guest book. Commemorate each other for a lifetime. Couples and guests are sure to treasure this puzzle.
5. State
Did you fall in love in a certain state? Do you and your partner love your hometown? Warm up your guests with the state puzzle. Show guests your state pride or where your romantic journey started. This puzzle guest book is tasteful and fun.
6. Deer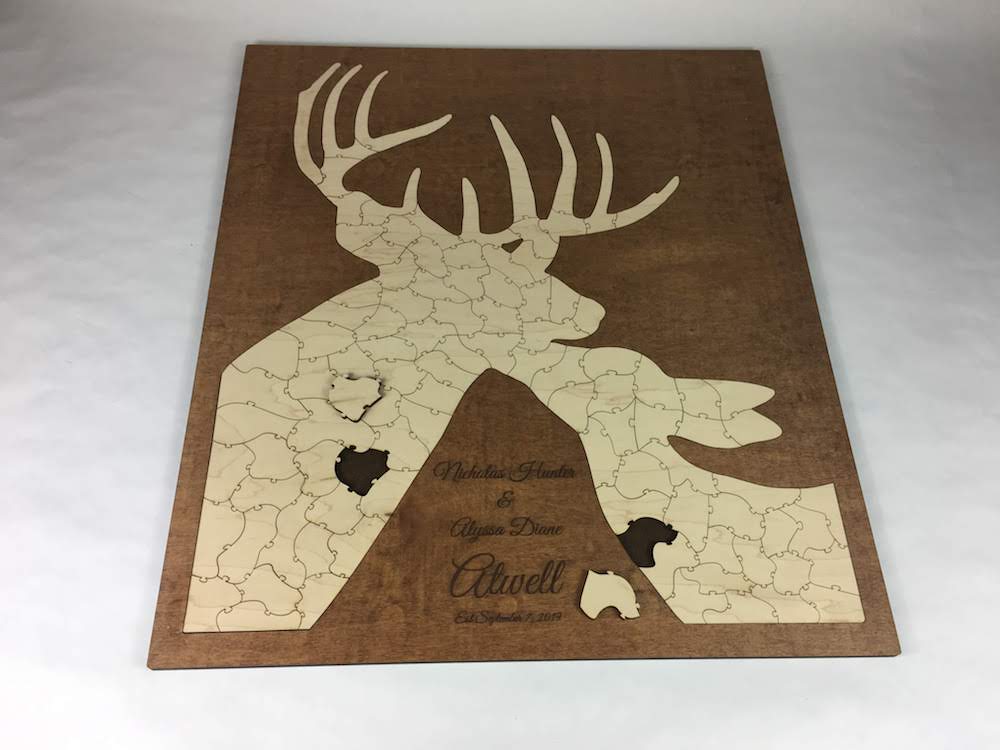 Buck or doe? Who will steal the show? If you're into the wilderness, this deer puzzle is the way to go. It includes two deer that will make guests say awe. This guest book is a crowd-pleaser that will definitely stand out!
7. Cactus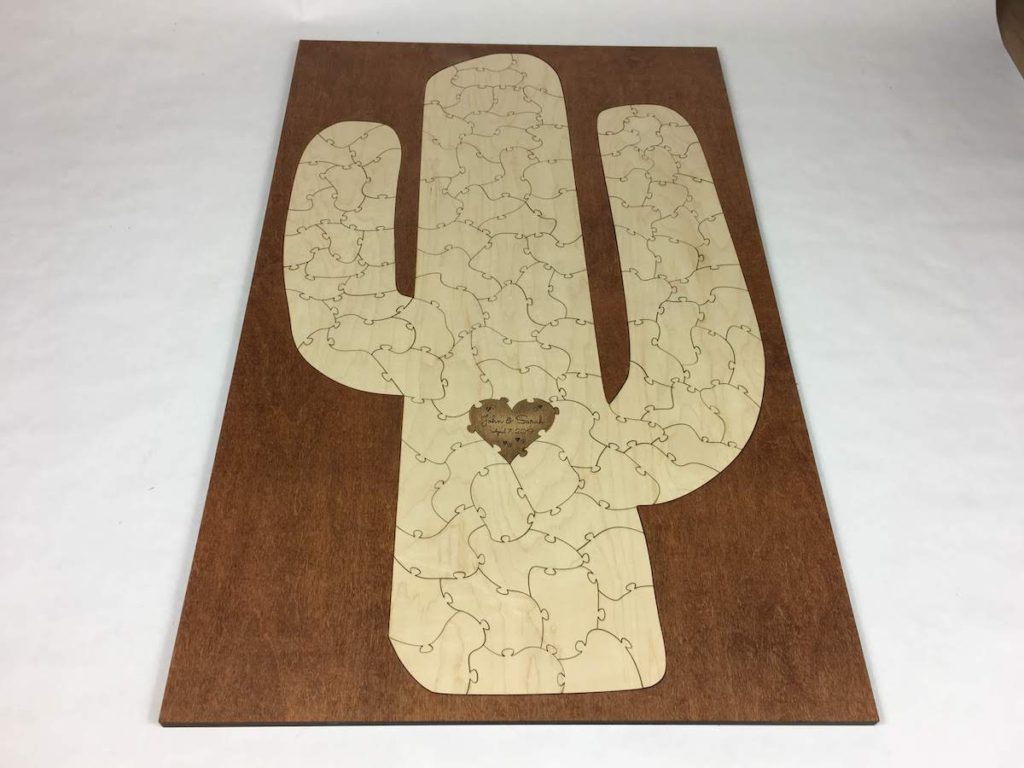 Get a little taste of the desert. This cactus puzzle is different and interesting; it includes a centered, engraved heart. Your guest book alternative will turn heads and be loved by guests.
8. Dog
Have a furry best friend you want to include in your special occasion? The dog puzzle is perfect! Select the breed from the selections provided or let Havoly know what you want. They are willing to create different shapes and sizes. Come have a woof at it!
Drop Top Guest Books
The drop top guest books can hold 20-215 pieces. Customers have the option of choosing from three frame colors: black grey or white. In addition, you can personalize the drop top guest books by adding a background color of your choice. Each of the frame sizes for the drop top guests books hold a different amount of pieces. Havoly includes a chart online with approximate amounts of hearts/leaves that can fit into the drop box. Sizes of the shadowbox pieces are 1.5", 1.75", and 2". For weddings, Havoly recommends 1.75" or 2" pieces.
1. Tree Drop
Fall in love with this charming tree drop top guest book. It comes framed in the color of your choice. It also features a background with any color of your choice. Choose the blue of the sky or a purple hue. For an additional price, the leaves can also be painted. Drop your leaves through the slit at the top of the shadow box!
2. Heart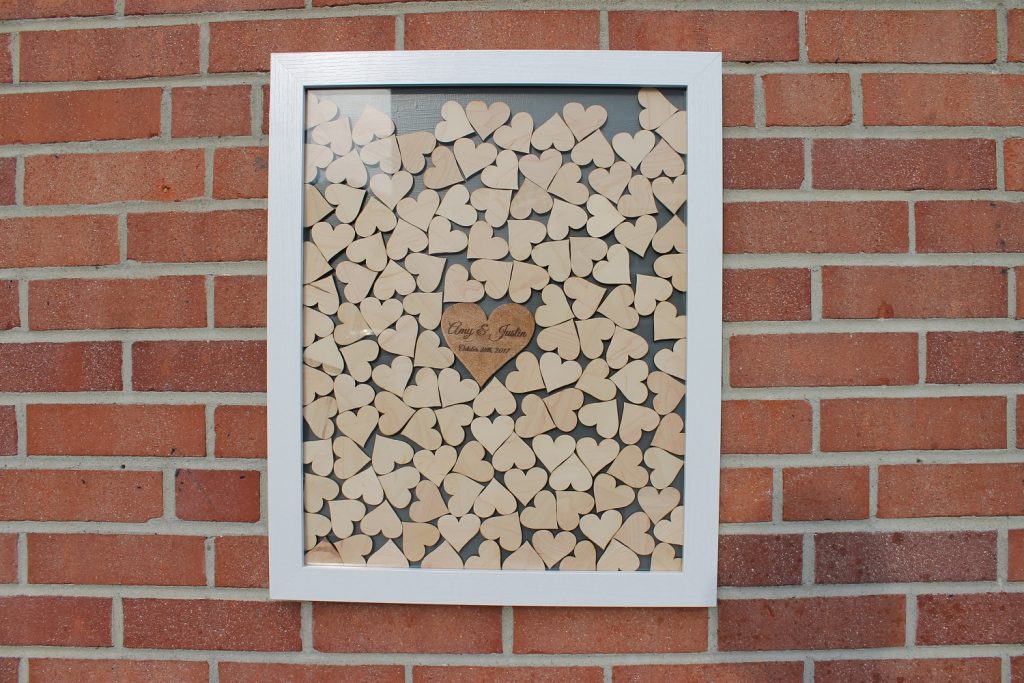 Let your guest drop a piece of their heart into your guest book! Choose a frame color and background color of your choice. Allow your guests to leave a sweet note for you. This personalized guest book will definitely show your affection.
Preserve your wedding memories and see your loved ones excited to sign. Add character and warmth to your special day. Let Havoly make your wedding guest book, a dream come true. They are definitely on my wedding check list!
P.S. The guest books can be customized and personalized for any occasion! Havoly wants to bring your ideas to life. If you don't see something you want, don't hesitate to shoot an email!
*If you share your Havoly wedding guest book on Facebook, you will receive a free guest book instruction sign!