Free US Shipping on All Orders Over $50
99% Customer Satisfaction
Safe & Secure Checkout - We Also Accept Paypal
Common questions have been answered below. Please
get in touch
if you can't find the answer to your question.
What kind of pen should I use to write on the wooden pieces in my guest book?
We have found that every pen we have come across can write on the wooden pieces. However, some bleed and others don't.
We suggest just a regular bic pen, as it allows for fine detail with no risk of bleeding. Sometimes fine tip or ultra fine tip sharpies bleed, sometimes they don't.
All wood is different. It expands and contracts and it's pores will open or close depending on the climate and humidity it's in.
We include a blank piece of wood with every order so you can test different pens on and see which works best.
Here's a video we made on pen selection:
Can I get replacement pieces?
Pieces get misplaced and kids are known for walking off with them at weddings. We can make you replacement pieces for $1 each, plus shipping costs. The cheapest way to ship even a single puzzle piece is $2.77. You should also know that the designs of these puzzles change over time, sometimes there are thin weak spots which need to be made thicker, and sometimes the overall size of the puzzles is every so slightly changed to accomodate the machine. Therefore, if you need replacement pieces, it's best to contact us ASAP so there's a better chance we have the exact size pieces which will fit your puzzle.
I need this soon, will I get it in time?
For the most of the year, excluding wedding season, we get most items made and to the post office within a week. During the months of July, August & September, they may take a bit longer.
We're very mindful of when wedding/event dates are, and prioritize orders based on the most commingling wedding date if need be. For instance, if we have 20 open orders with the majority of the events being 2 months out, but one wedding which is 2 weeks out, we make the item for the wedding which is 2 weeks out before the others.
If you need something in a rush (2 weeks or less), it's best to contact us. Most likely it won't be an issue.
Is the Instruction Sign Included?
The instruction signs which tell guests to sign a piece are free, if you share a photo of your guest book on our Facebook page.
Simply like the page before placing your order, let us know the name you liked the page with in the order notes (you'll find these during checkout) and when you receive your guest book, take a picture of it and post it on our Facebook page. It's that easy.
Alternatively, you can purchase one. If you don't have Facebook, shoot us a message and we may be able to work something else out. We're happy to help those who help us.
How big are the puzzle pieces?
The puzzle pieces are a good size; certainly more than a name or two can be written on them. They all all uniquely shaped and slightly vary in size. Here's an example on a piece written on and the amount of text it allows: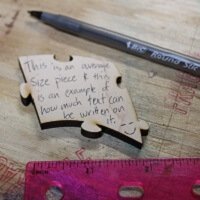 What size or how many pieces should I get?
It's impossible to say how many guests will sign a piece. Couples tend to sign one piece as a pair, and often people don't sign at all.
Therefore, we believe you will be fine with a guestbook which has or holds 50-75% of your guest count. For example, if you're having a wedding with 100 guests, we believe you will be fine with a 75 piece puzzle or drop top.
This is just a suggestion. Again, it's impossible to know for sure how many pieces will be signed.
Where do you put the guest book at a wedding?
You can place your guest book alternative on a table with a sign where guests can easily see it. This can be at the entrance or exit of the ceremony space, or at the location of the reception. Don't forget to leave out some pens!
How do I hang this without pieces falling out?
If you ordered a bordered puzzle, you'll notice there are hangers attached on the back so it can easily be hung on the wall. Of course, the puzzle pieces will fall out of the frame unless something is used to secure them in place. For a permanent bond, wood glue works great. For a non-permanent bond, you can use thin glue dots, double sticky tape or tacky putty.
My order arrived damaged! What now?
We are very thorough when it comes to packaging our items, which is evident when you receive your package. It's unfortunate and very rare, but things happen and items sometimes get damaged during delivery. Please, don't freak out. We'll work with you to get you a replacement if need be.
You'll need to email casey@havoly.com pictures of your damaged item, as well as the packaging it came in showing it was well protected and packaged (bubble wrap, peanuts & corner protectors, etc.), also pictures of the damaged box (punctures, dents, etc.). The more pictures the better, we will need them to file a claim with the shipping company.
Once we have the images, we will send you a replacement.
 In most cases, you'll need to keep the pieces which will need to be signed, as we will most likely be sending just the puzzle border or the frame which needs to be replaced.