Free US Shipping on All Orders Over $50
99% Customer Satisfaction
Safe & Secure Checkout - We Also Accept Paypal
Our drop top guest books are unique, elegant and a notable addition to any wedding or event. It's an interactive way to collect signatures and get the guests involved. They enjoy signing a piece and dropping it in the frame, creating a treasured and memorable keepsake that lasts a lifetime.
How does it work?
Stand the frame up on an easel and leave blank pieces on a table alongside it. The guests write their name and well wishes on a wooden piece and drop it into the shadow box frame. A beautiful piece is created as the pieces stack on top of each other, memorializing the special day.
There are 4 main styles of drop top guest books we make: the heart, the tree with plain leaves, the tree with fall colored leaves, and the cherry blossom drop box.
We've also made dozens of different versions from airplane shaped cutouts to star shapes. If you've got something in mind, message us, we'll bring it to life.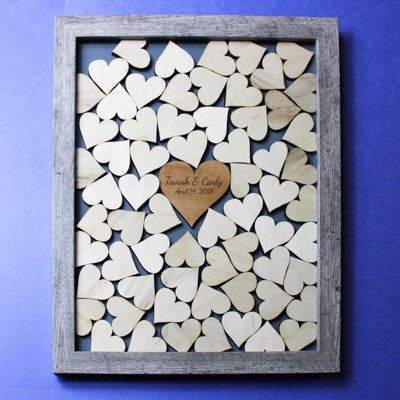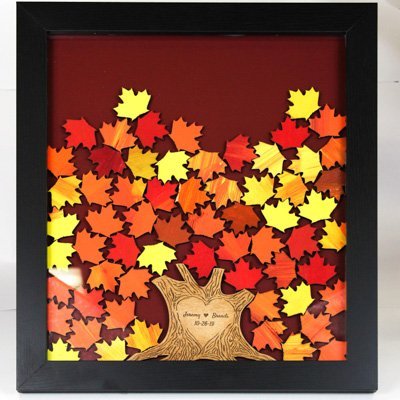 There are three frame colors to choose from: black, grey, or white.  Go for a chic look with the black or white, or a rustic wedding theme with the weathered grey.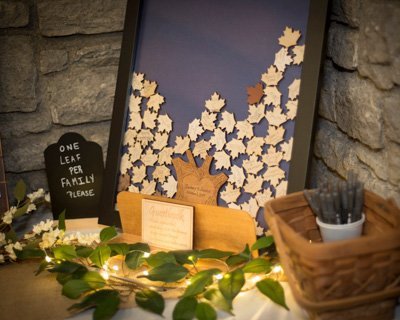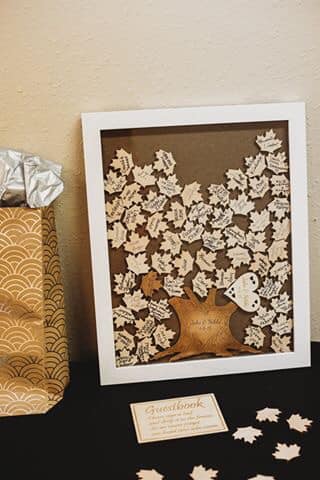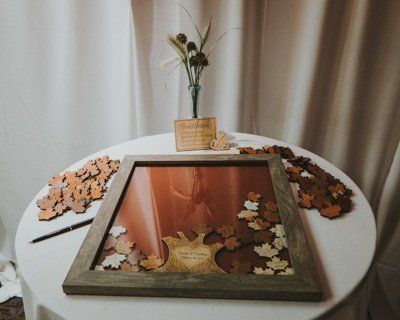 You can choose any color under the sun for your background color.  If you're not into any of the 15 color choices we give you, select "other" and write down the color you'd like in the order notes and we'll paint it.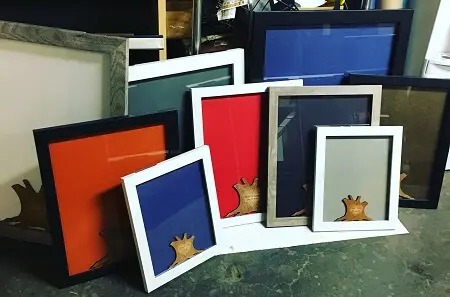 Whether it's a small wedding or gigantic party, each drop top can hold as few as 20 pieces or up to 215 pieces.
The leaves and hearts come in different sizes, so each frame size holds a different amount. They are either 1.5″, 1.75″ or 2″ in diameter. 
For a wedding, you'll probably want 1.75″ or 2″ pieces, as they allow a bit more than just a name to be written on them.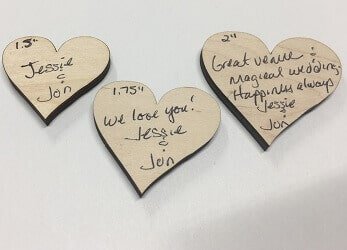 Each drop top has a personalized piece laser engraved with the text you desire. This may be a tree trunk, a heart, or another custom shape.
You can always choose the font from one of our selections, or provide your own font if it is free to download.
We always format the text you provide to look as best as possible. Which is almost always in two lines of center aligned text, with the names a slightly larger font than the date. In the case of two first names (or Mr. & Mrs.), a last name, and a date, we break this into 3 separate lines, with the last name being the largest in size.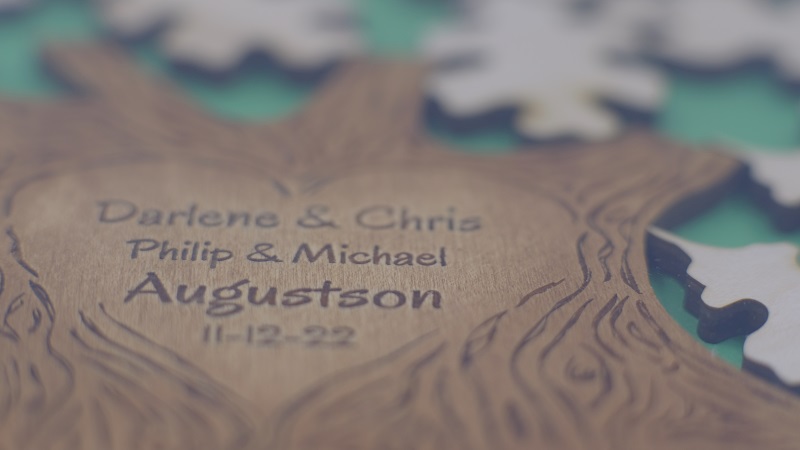 How many pieces does each size frame hold?
Remember, each size frame holds a different amount of the 3 sizes of leaves.
Consult the chart to see which size will work best for your wedding or event.
For example, if you're having a wedding and expect 150 guests, we suggest a 16×20 frame with 1.75″ leaves. You'll probably even be OK with the 2″ leaves, but it's impossible to know for sure how many pieces will be signed.
What combination should you get?
It's impossible to know for sure how many pieces will be signed. We do have some suggestions based on our experience.
For a wedding, you probably want the 1.75″ or 2″ pieces as they allow a bit more than just a name to be written on them.
We've found typically 50-75% of the guest number is the number of pieces which will be signed. Couples tend to sign a piece as a pair and often people just don't sign.
Again, it's impossible to know for sure how many pieces will be signed and this is just a suggestion.