Free US Shipping on All Orders Over $50
99% Customer Satisfaction
Safe & Secure Checkout - We Also Accept Paypal
15 Reasons Why I Love You Wood Heart Puzzle
A quality wooden puzzle to show your love and appreciation to those dearest to you. If you're looking for something unique and guaranteed to leave your other half overjoyed, this is the Valentine's Day gift to give.
How does it work?
On each large puzzle piece, write a reason why you love your significant other. He/She will be absolutely euphoric reading them while putting the puzzle together. It's a home-run gift that will be cherished for a lifetime.
Everyone loves a thoughtful gift which is personal to them.
Each puzzle has a center heart piece which is engraved with the initials you provide and the year. A warm finish is then added to this custom piece.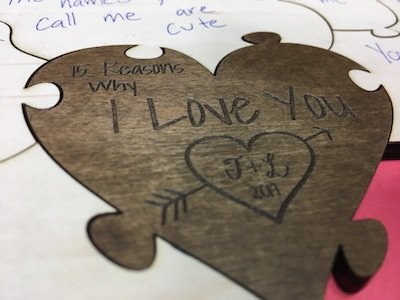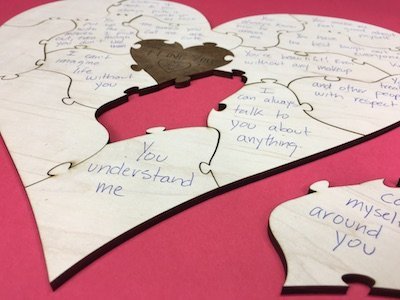 Large Easy to write on pieces
Not including the center heart, there are 15 large plain wood pieces which can easily be written on.
Write as little or as much on each piece telling him or her why you love them so much.
We suggest using just a regular bic pen, as there's no risk of any bleeding and it allows a fine amount of detail.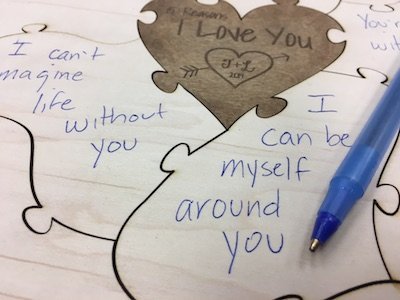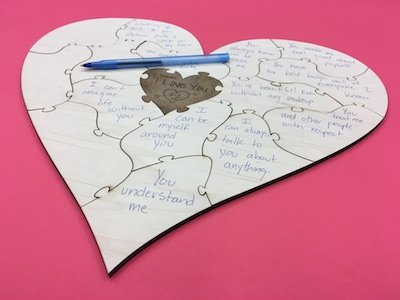 Add-on a border For an Extra Touch
You can either get the puzzle without a border, or add that extra touch of elegance by adding on the border.
The wooden border surrounds the puzzle and allows the puzzle to easily be hung on the wall. You'll first have to secure the pieces in place. You can use double sticky tape or tacky putty for a non-permanent bond; for a permanent bond you can add a couple of coats of poly finish or wood glue.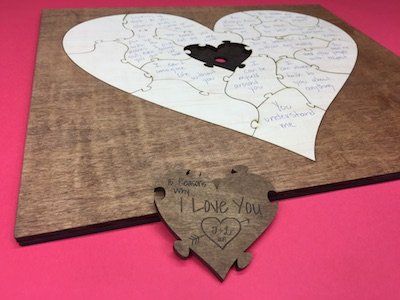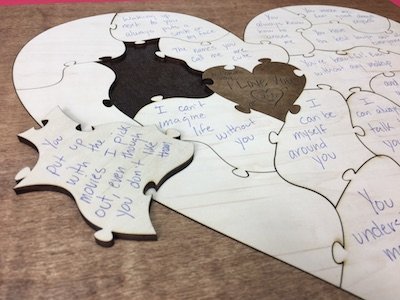 Get a Free Magnet With Your Order
All we ask is that you share a picture of the puzzle on social media.
You can either post the picture directly on our facebook page or tag us on instagram #havolydesigns
We're trusting that you'll do so, and we truly appreciate it when you do. You're helping out our small business, and in return you get a free magnet personalized with the same initials as on the puzzle center piece.
It's a WIN/WIN
Free US Shipping on All Orders Over $50
99% Customer Satisfaction
Safe & Secure Checkout - We Also Accept Paypal