Looking for a unique and personalized guest book alternative that's sure to impress? Our tree drop box guest book is great way to collect signatures and well wishes for weddings, baby showers, birthdays and all other events. The guests enjoy signing a wooden leaf & dropping it in the shadow box frame.
You can find the fall-colored version of this guest book with the painted leaves by clicking here.
This guest book comes with a personalized tree trunk and leaves that the guests sign and drop in. It's an exciting and warm way to involve the guests at a wedding or other event. They also make great baby shower guest books, graduation guest books, fundraiser guest books, birthday guest books, or any other event guest book that should be recorded for a lifetime.
The 1.5″ leaves are a good size for just a name or two, but not much more. Maybe a name with a two-word
blurb, or a very small drawing.
The 1.75″ leaves hold more text. A great size for multiple names (often the choice of signing by couples). Also a name with a longer blurb and/or small drawing.
The 2″ leaves have even more room and are great for allowing guests to leave a short message along with their name.
Usage:
It's impossible to know for sure how many pieces will be signed. Most of the time 75% of the guest list is plenty. Remember, most guests at events like weddings will fill out one piece as a pair if they're with a date. So if you plan to have 150 guests at your wedding, unless you make a point that each guest should sign a piece individually, you should expect less than 150 signed pieces. For something like a kid's birthday or graduation, we suggest getting close to around exactly how many guests you plan to have. Most of the time each kid will want to sign his/her own.
Size:
There are 3 different sizes of leaves you can choose from. The amount each frame holds of each size leaf is fairly accurate,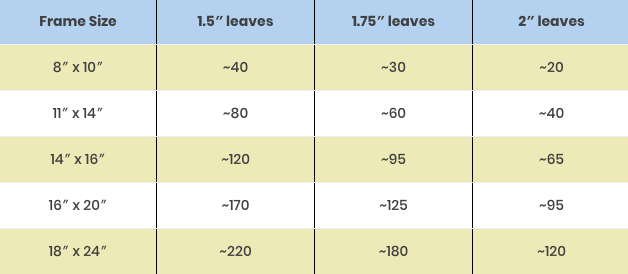 but it may hold a few more or less. The frame sizes and approximate amount of each leaf size that the frame will hold are as follows:
Backgrounds:
Choose your background color from the many choices. If you don't see the color you're looking for, we can paint any color for an additional $10. Just choose "other" from the choices and be sure to write the color you'd like.
Engraving:
Specify the text you want to be engraved within the border. For example "Sara (heart) Brad July 10, 2022" or "Mr. & Mrs. Avery Est. 7-10-22" Anything written in parenthesis will be considered a symbol or icon. Usually, the engraved text is in three separate lines of center-aligned text: The first names on the top line, the last name in the middle line (made larger), and the date on the last line of text. But that doesn't mean you have to do this. We can engrave whatever you want in that space, in as few or as many lines of text as you want. There is plenty of space here for engraving. We always format it to look best.
Font Choices:
There are various fonts you can choose from for this item. They are included in one of the pictures, with a letter symbolizing each. Choose which font you prefer for your order from the drop-down list. You can also select "Other" if you have another font in mind. This option doesn't cost any extra as long as the font is free to download. Just be sure to leave the link to where we can download it in the Notes section during checkout. Fonts.google.com and dafont.com both have many free fonts for you to pick from.
Quality:
All leaves are cut from quality maple wood. The frame has excellent workmanship and uses real glass. A blank piece of wood to test pens on is included with every order. Nearly any pen works for writing on them, some better than others, it greatly depends on your climate. You can find more information about pen selection on the FAQ page.
Get a free wooden guest book sign by sharing the "Love" on Facebook.
We will include a sign instructing guests to leave a note for no charge if you share a photo of your completed guest book on Facebook.
Step 1 – Like the Havoly Facebook Page.
Step 2 – Enter "Yes I will share on Facebook" in the notes section during checkout.
Step 3 – Have a great time at your event and don't forget to take pictures of your guestbook.
Step 4 – Share the photograph on our Facebook page, or on your own profile tagging us. Alternatively, you can tag us on Instagram #havoly.
We also sell other event items such as drop top guest books and more puzzle guest books. Check out all of our guest book alternatives here.
Have an idea for something else? Send us a message! We're always interested in creating custom designs for you. You should also join the mailing list to stay up to date with our new creations and receive exclusive offers.